A few people have been asking what we've been eating since we overhauled our diet a number of months back. I sent a long email of ideas to a friend and thought some of you might be interested as well. Maybe this will help some of you get some new meal ideas.
Lettuce Wraps – we have added carrots and have even made them without meat before.
General Tso Chicken Love this one with brown rice. We ate it last week without the rice and just had sautéed veggies with it.
Turkey Burgers – we made a twist on these and froze them for Maddie. But Chuck and I loved them. We used ground chicken and added shredded zucchini and shredded carrots. So yummy! We splurged once and had them on pretzel rolls!
Wild Rice Burgers – my new favorite!
Kabobs – we make kabobs a lot when guests come over. If you have time to prep them the night before, you would save time when you get home from work. We add cherry tomatoes, peppers, onions, and sometimes chicken that was marinated in a teriyaki sauce. But usually the chicken is left off for us and we eat the veggies. I will sometimes make some wild rice to go with it.
Quesadillas Chuck used to make quesadillas when we first started eating this way, but we started making tacos instead because it was faster. But for lunch, I will take a whole wheat tortilla, add peppers and onions, some salsa and cheese and microwave it. If we have been to the farmers market, I will add some black bean hummus to it. 🙂 Very fast, really tasty.
We make veggie tacos a lot. Cut up peppers and onions, sauté in a little olive oil until tender and add taco seasoning. Then use toppings as usual.
Veggie pizza – whole wheat Boboli pizza crust (in pizza isle), sauté some peppers and onions until slightly tender, add pizza sauce (or salsa) to the pizza, top with veggies and cheeses and bake until lightly brown. Chuck has also learned to make his own pizza crust…yum!!
We also sauté peppers and onions and add some soy sauce to season as they are cooking. Then we eat them with salmon (which we bake on a cookie sheet for the package's suggested time, brushed with a little olive oil and a little cayenne pepper).
Some useful tips: cut up a bunch of peppers and onions when you have time and keep them in a container it the fridge ready to use.
We use yellow and red onions and all colors of bell peppers almost every day.
Soy sauce makes veggies yummy! Yes, there's some salt, but get low sodium and don't worry too much about it.
We also eat a ton of fruit, strawberries, pineapple, apples, berries, watermelon…anything you want. We have a fruit with all our meals.
We buy Annie's food for Maddie. And there are a bunch of soups by Amy's that I really like. They are a good lunch.
We eat a bunch of nuts for protein.
Mostly, look for products with a very short list of ingredients. Triscuits have only three ingredients. At least look for ingredients that you can pronounce.
I have been taking lots of pictures of my meals. Here are some of the pictures from my phone of meals we have eaten. I apologize for the poor quality. And these have been taken over many months. For instance, we don't have rice in our tacos anymore.
Veggie tacos.
Veggie quesadilla. I have these many days for lunch since there are usually chopped veggies in the fridge already. Today I added my Black Bean and Chioptle Hummus to it! YUM!
More veggie tacos. Chuck will add zucchini into the cooked veggies, too.
Amy's Vegetable Barley soup. I have bought it at Target by the soups and Cub in the Organic section. It comes in a green can and I LOVE IT!
Soup and salad.
More quesadillas.
Salad, fruit and nut crackers that I brought to a picnic lunch. On our last picnic, I filled the large section with chips, the small section with our homemade salsa and the medium one with fruit. That is my favorite picnic lunch!
Turkey burgers. We froze these in hopes of Maddie eating them, but she didn't like them that much. We ended up eating them one night on a splurge of pretzel buns. It was delicious!
Sautéed veggies, pineapple, onion rings and turkey burger on a pretzel bun.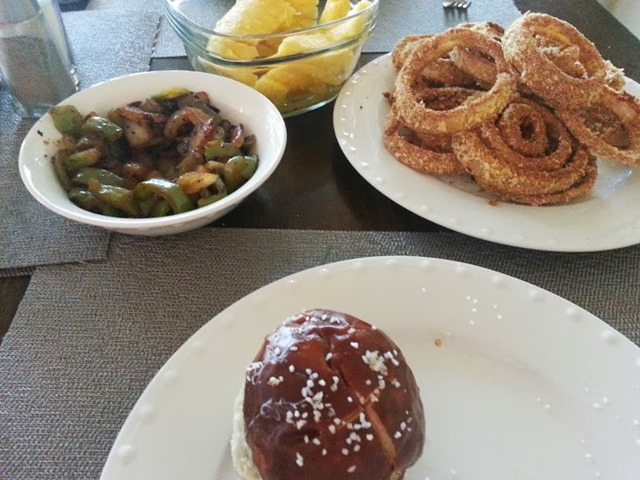 My favorite onion rings. I really like them dipped in BBQ sauce! I could eat these every night!
Another quesadilla.
My favorite pizza! This was a crust that Chuck made. It was delicious and so filling. I like using salsa instead of tomato sauce and I like pepperjack cheese.
Zucchini chips. Yum! They have a little spicy kick to them.
Lettuce wraps with lettuce from our garden. This was made with chicken, but we have made it with tofu and just veggies, too. Did you know that Noodles has an amazing order of lettuce wraps? I get them every time….with some potstickers!
Szechuan green beans. So flavorful and the only way I will eat green beans.
Szechuan green beans, pineapple and pan fried walleye. I at lots more walleye than this!
Sautéed veggies, salmon and zucchini noodles. (We tried the noodles a couple times and a couple ways, and I don't really care for them. Chuck thought they were really good, though.)
Wild rice burgers!!! Chuck's newest meal and my new very favorite! I want to eat this for every meal. It was so good and melted in your mouth.
Melty pepperjack cheese on my wild rice burger! So good!!!
I hope you find something on here that you might be willing to give a try. I am so grateful that Chuck likes cooking and has done all the grocery shopping, cooking and dinner clean up. He's amazing and I am eating so much better because of him!
Happy eating!!