I got a few new books at the library recently and came across a couple books I wanted to share. It made me think of a few others I like. If you'll recall, these were the last books I wrote about.
The first one is called Bugs Galore. I love love love this book. I am definitely going to buy it and any others by this author (I know there's at least one about cars). They use a huge array of words for the kids to learn new vocabulary. The pictures are colorful and fun. I highly recommend this even as a gift for kids!
Next up is one both of my girls adore Pout Pout Fish. Dannie likes to make fish faces and there's a part that says "blub blub blub" and she loves saying it. She will bring me the book and sit in my lap and give me a fish face. Love it. On top of that cuteness, the book itself is adorable. More great words, lots of rhyming and fun repetition. And the pictures are, again, colorful and really fun.
Soup Day is one of Maddie's favorites right now. We got it from the library and it's the first book she picks out for me to read to her. When I make vegetable soup, Maddie likes to help. We talk about all the vegetables that go into it. So when we are reading, she names all of the vegetables in the book. Granted, the girl will hardly look at vegetables when it comes to eating them, but at least she recognizes them.
Next up is Doggone Feet. This isn't my favorite, but Maddie definitely loves it. She wants me to read it almost as much as the soup book! Cute story, not the best pictures, but if the girls love it, it goes on the list!
I came across this book while I was at Good Times Park one day. I think I was sold by the googly eyes. Smile-a-Saurus is so cute. It talks about all different feelings that the dinosaurs have. It's fairly short and the girls both love the eyes. Really, the girls LOVE any book that have the little plastic popout features (ladybugs, eyes, strawberries, stars…). This book was a little hard to find. It's not a very recent one, but I was glad I found a copy.
For Maddie's birthday, we got her some Doc McStuffins gear. So I got her a couple Doc McStuffins books. Chilly Catches A Cold is her current favorite. All of the Doc books have a really cute story and Maddie loves naming all the characters and seeing what needs to be fixed in each story. And Doc isn't a princess, so YAY!
My mom brought over the book Parts. Maddie thinks this book is really funny. I think she will appreciate more when she is older. But I get a kick out of it. This poor boy thinks he's falling apart and imagines the things happening to his body. It's really cute. There are a couple follow-up books…More Parts and Even More Parts. More Parts is funny. Even More Parts, not that great. But again, I think if your kids were a little older, they would really like these.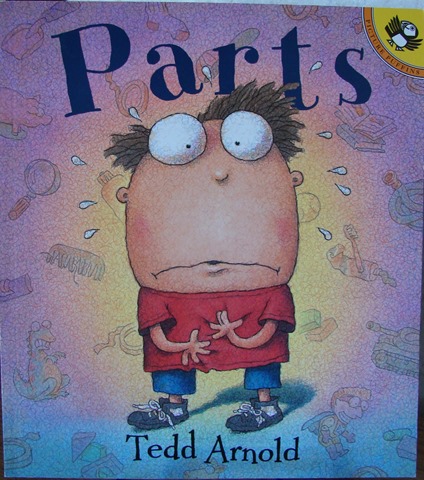 These next two I haven't read yet, but I have read really good reviews about them.
Charlie's Snow Day is part of the Charlie the Dog series. These books are by Ree Drummond, better known as The Pioneer Woman. If you don't know who she is, you should. She is hilarious and makes some of the most delicious looking food, she homeschools her kids and lives on a cattle ranch. Charlie is one of her dogs and I love that Charlie has gotten to become a series of books. Such a cute idea. I picked this one only because it is STILL winter here. But there are others, too.
And finally, I Had A Favorite Dress. This reminds me of something Maddie will do…ask her grandma to make her favorite dress last longer. Again, I haven't read this, but it caught my eye and I would love to find it at the library to see if Maddie likes it and read the story. But if you have a daughter (or granddaughter or niece or sister or friend) that has a favorite outfit, this might be a good book for her.
There you have it. Another list of books. I'm hoping to keep doing this as I come across more books I love and the girls love, too. If you have any books you want me to add to this list let me know.
And I think at some point I'll make a list of books to stay away from. Do you have any suggestions for that list?