The other night I tried out a new meal. Here is the recipe. I used half as many noodles and not quite as much chicken, but used the whole amount of sauce. Chuck likes it saucy!
I cooked the chicken (and shredded it) and lasagna noodles. Then I mixed the pasta sauce and seasonings together.
Then layered some in the bottom of a baking dish.
Then I mixed the cheeses, chicken and some sauce together. This is the stuffing to the lasagna noodles.
Then I set out my lasagna noodles.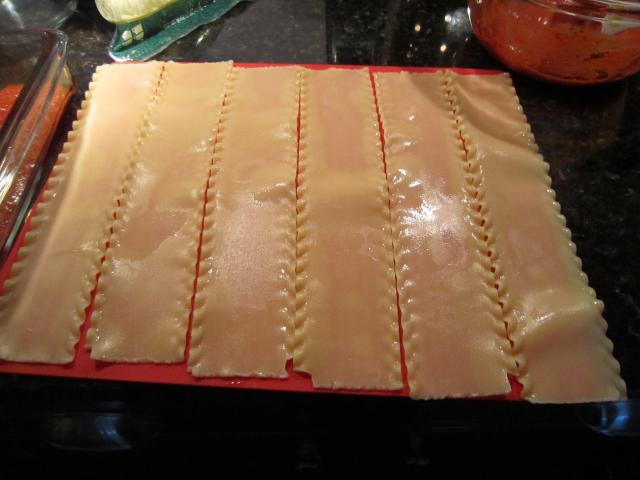 Then added the chicken/cheese/sauce filling. I added it to most of the noodle, leaving some space at the top for when I rolled them up.
Then I rolled them up and placed them seam side down in the pan.
Then I added on the rest of the sauce and more cheese.
After baking, I served it up and we chowed down!
It was really good and pretty spicy. I think the next time I will make it, I won't make it so spicy. Mostly because Maddie LVOED it….until she stopped shoveling! Then her mouth hurt because it was spicy and started crying and touching her tongue. It was both sad and funny. (I'm such a terrible mom!) I wasn't sure how she would handle them, but they were a little too spicy for her. Live and learn. It was the first time I made this meal.
And I think I will always make this many noodles. It would be pretty dry with more noodles and the same amount of sauce…even for my liking.
Also, I think I would do this with leftover chicken the next time. Or after I get a rotisserie chicken or something. It was kind of a pain to cook the chicken as part of the preparation process. I am glad I started this meal during nap time and put it in the fridge until it was time to cook it. I don't think I would have been pleased with how long it took had I not done it ahead of time.
Overall, great meal. I'll change it a little next time (less spice for Maddie and leftover chicken). Definitely going to stay on my list of meals, though! You should give it a try!