A friend of mine has raved about Teavana, so the other day I was in the store getting a gift for someone and I thought I would try out some things. I've never found a tea I like, but I would like to like it. I tasted a sweet tea they had as a sample and I was sold!
So I went home and made a cup. It was awful! There's no getting around that. So I started asking my tea drinking friends what I did wrong. First guess was my water was too hot. So I made another glass with slightly cooler water. It was better. Still bland, though. A couple days later, I tried some more with a friend. I steeped it longer and used more tea. Success!
So now that I have found a way I actually like drinking it, I am so excited about it! So here is what I got.
I got a mixture of Strawberry Lemonade Herbal Tea and Blueberry Bliss Rooibos Tea.
Then I also got Strawberry Lemonade mixed with Wild Orange Blossom Herbal Tea after talking to Morgan (a sales associate at Teavana) who likes the sweet tea just like I do!
I need to tell you how yummy these smell. I want to eat them right out of the jar. That would be weird, I know, but I want to.
I also got Perfect Tea Maker. Wow. This thing is cool!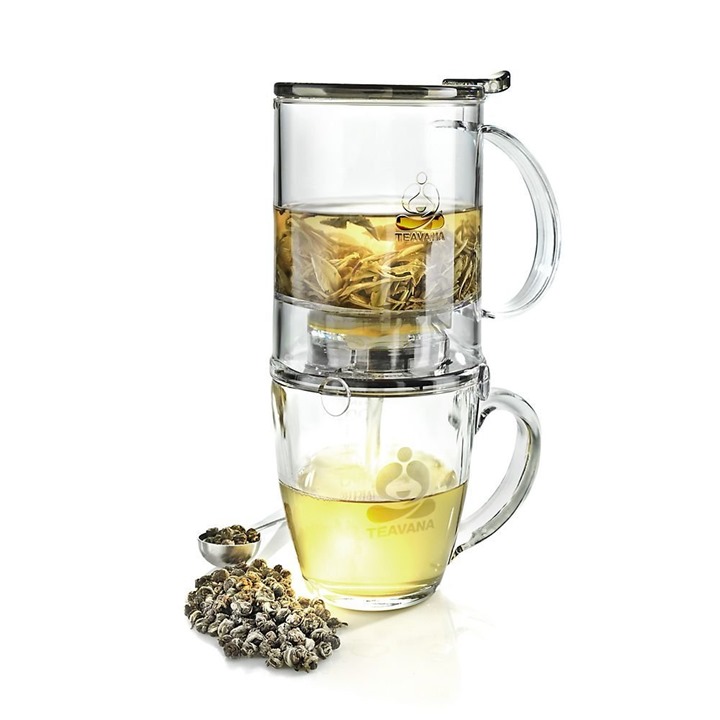 You put your tea inside and pour water over it. I also got some rock sugar to sweeten the tea and I add that in to the tea maker with the tea. Then you let it steep. When you are ready, you put it over any cup/mug and it has a quick release on the bottom so the tea comes out the bottom without any leaves or anything in your glass. SO cool!
Here are some pictures of my tea I took yesterday with my phone. It looks like a ton of tea in there but it was only a couple scoops. The tea rehydrates and get huge in the water.
And here is when I am putting it in the cup.
And look at the pretty color!
Ok…this picture wasn't very pretty. But it was a really deep pink in person.
So there you have it. My failed, then successful attempts at tea. Do you like tea? What are your favorites? Do you like it sweetened or any way you can get it?