Right after Christmas, my friend at work picked up some S'mores Bark at Target. We talked about making some and I knew I had to give it a try. So, I made it my mission to make some. I was too tired after work, so I woke up early one morning and made it before work. And it was a HUGE hit and got rave reviews!
There are tons of recipes you can get online, but this is how I made mine.
What you'll need:
Bag of milk chocolate chips
Bag of white chocolate chips
Graham crackers
Mini marshmallows
Tin foil
Baking pan
First, line a baking pan with tin foil.
Then, put the milk chocolate chips in a microwave safe bowl.
You're going to microwave the chocolate until it melts, but while it's melting, you should break up 2-3 graham crackers so they are ready when your chocolate is melted.
Microwave the chips in 30 second intervals, stirring after each interval until it is melted.
After the chocolate is melted, spread it out on the tin foil in an even layer.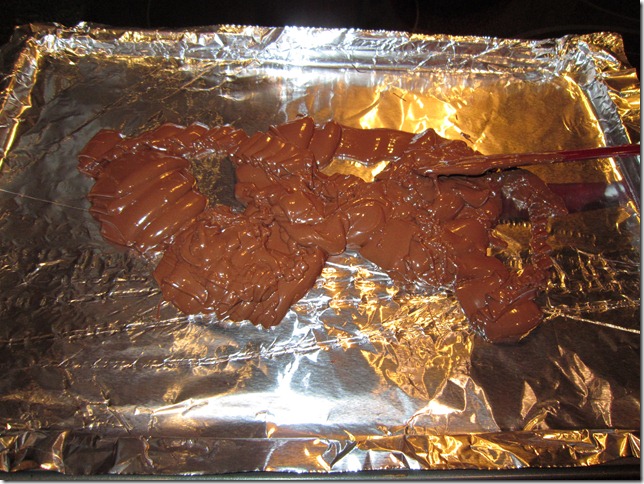 Then sprinkle the graham crackers on the chocolate and press the crackers into the chocolate to set them in.
Now put this into the fridge or freezer to harden the chocolate a bit. It makes it easier for the next step.
Next, put the white chocolate chips in a microwave safe bowl and microwave in 30 second intervals, stirring after each interval, until it is melted.
And while this is melting, smash up a graham cracker or two for sprinkling over the top at the end.
Now, get your pan out of the fridge/freezer and pour the white chocolate over the milk chocolate and graham crackers. Do your best to spread it all over. The white chocolate will melt the milk chocolate a little and make them blend together. Doing this helps keep them slightly more separated, although, there will be some blending.
Then sprinkle on as many marshmallows as you like. I tend to like marshmallows and added a bunch of them!
And then sprinkle the graham cracker crumbs you made over the top of this.
Finally, add another piece of tin foil to the top and press everything down. This helps to set everything into the chocolate. After doing this, put back into the fridge or freezer until completely hardened.
After it has hardened, break apart into pieces for serving.
And ENJOY. That's it. It may seem like this is complicated, but I assure you, it's SO very simple. I also brought this to a gathering the other night and our friends LOVED it! I highly recommend trying this for your next gathering.