Since I recently posted my recipe for S'mores Bark, I thought I would post my peppermint bark recipe, too. You start out the same as the other bark.
What you'll need:
Bag of milk chocolate chips
Bag of white chocolate chips
Candy canes
Tin foil
Baking pan
Rolling pin, meat mallet, hammer or something else for smashing the candy canes
First, line a baking pan with tin foil.
Then, put the milk chocolate chips in a microwave safe bowl.
You're going to microwave the chocolate until it melts, but while it's melting, you can start unwrapping the candy canes.
Microwave the chips in 30 second intervals, stirring after each interval until it is melted.
After the chocolate is melted, spread it out on the tin foil in an even layer.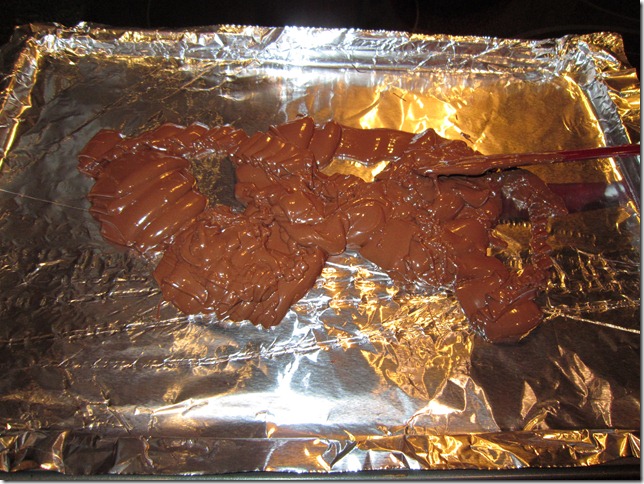 Now put this into the fridge or freezer to harden the chocolate a bit. It makes it easier for the next step.
While this is in the fridge/freezer, unwrap the candy canes and put them into a freezer bag. I tend to break them into smaller pieces as I am putting them into the bag.
Then I lay the bag on a kitchen towel to try to prevent the candy canes from breaking through the plastic.
Then I whack the heck out of them with a rolling pin or a meat mallet. This is quite refreshing if you are stressed.
I break them into pretty small pieces. Just think about how big you would want them if you were biting into them. Smaller is better, but you still want some chunks. It's just prettier that way.
Next, put the white chocolate chips in a microwave safe bowl and microwave in 30 second intervals, stirring after each interval, until it is melted.
Now, get your pan out of the fridge/freezer and pour the white chocolate over the milk chocolate. Do your best to spread it all over. The white chocolate will melt the milk chocolate a little and make them blend together. Doing this helps keep them slightly more separated, although, there will be some blending.
Then sprinkle with the candy canes.
Now take another piece of tin foil and place it over the top and press evenly on the whole pan. This sets the candy canes inside the chocolate.
Then put this back into the fridge/freezer to harden. After is has hardened, break it into pieces and ENJOY!
There you have it! Simple as could be! This is great to put into tins or clear gift bags and give them to friends or family for Christmas.