Just one more month and this little girl will be 1! How is that even possible? I'm deep into birthday planning and the invites will be in the mail soon!
Maddie is learning things so quickly! It's hard to keep up with everything that she is learning.
Some of the things she has been doing this month are giving hugs and kisses, blowing kisses (getting better, but still working on this one), waving to everyone, being shy around people and burrowing her head on my shoulder, understanding words (which is really kind of creepy…she understands what we say and reacts…amazing!), imitating more, remembering things exist when they are out of her view, being more snuggly, eating food by biting it with her teeth (she has 6 – 4 on top, two on the bottom) instead of needing small pieces of food, taking her bow out of her hair, putting everything behind her head, walking everywhere, following us around the house, bringing items to me (books for me to hold while she turns the pages)…phew…the list just goes on and on!
Here are some pictures of this crazy, wild girl in action!
Snorting and being an entertainer!
Tearing up newspaper. A favorite past time!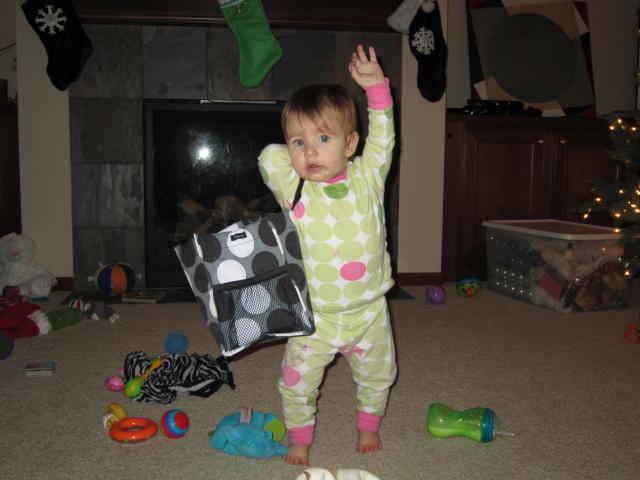 Maddie loves to eat. She will eat just about anything. Here she is enjoying sloppy joes. It is one of her favorites!
She even rubbed it in her eyes.
She loved the box my dust buster came in.
Playing at the library…while I picked out books.
Maddie loves the chair Grandma Vicki and Grandpa Dave gave her! She plays on it all the time. She likes to stand on it and sit on the arms. She did make the chair tip over once and went over the back of the chair, then later that day, she went over the side. It was a rough day.
Maddie loves her dolls!
I went to get her up one morning and she had taken the clothes off her doll. Impressive!
She also loves her block stacker.
But not as much as she loves her milk!
Here is Maddie playing with her food. She put one Cheerio at a time into the cup hole on her high chair.
Eating waffles.
She was so excited about bubbles at Paige and Brian's house!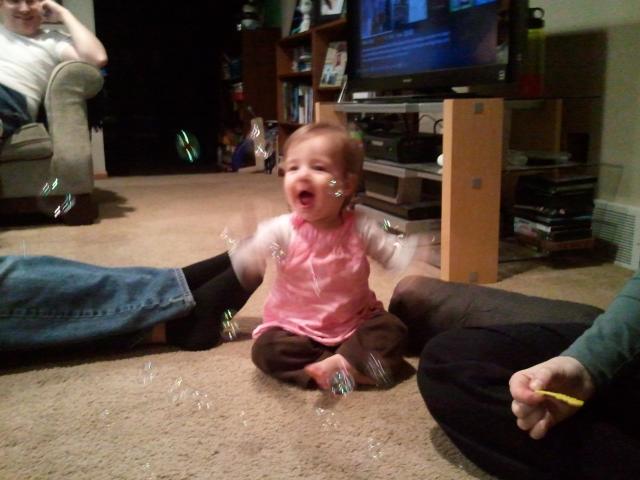 And Maddie had fun playing with the train set at National Camera.
Ok. I think I have shared enough pictures of her. There are a lot that I left out…I had to stop somewhere! So here are the pictures from this month and the previous months' posts.