Dannie turned 5 months old over the weekend. I'm a couple days behind getting this posted.
She still loves her hands and has been getting more coordinated with her toys. She can grab them and hold on to them and seems to enjoy playing with them more.
We started putting her in her jumper toy this past month and she really likes it. She loves sitting up and being part of the action. Maddie is always close by when she is in the jumper and brings her toys, sings, dances and plays with her. It's adorable.
Dannie is still only rolling from her back to her stomach, but not back to her back. She looks like she is about to, but she hasn't done it consistently yet. She's really strong on her stomach, though and really pushes herself up.
I think Dannie might be starting to get a tooth because she loves this banana toy and will chomp on your finger or other toys. She likes ice toys, too. Maddie got her first tooth at 6 months, so we shall see when this one gets teeth!
She loves when you hold her up so she is standing. She just giggles.
"If You're Happy And You Know It" is her favorite song right now. She laughs so hard when you clap her hands together or do "hooray!" She also loves when we read books. Mostly they are the books Maddie wants to read, but she still watches intently!
Maddie loves playing in Dannie's crib with her!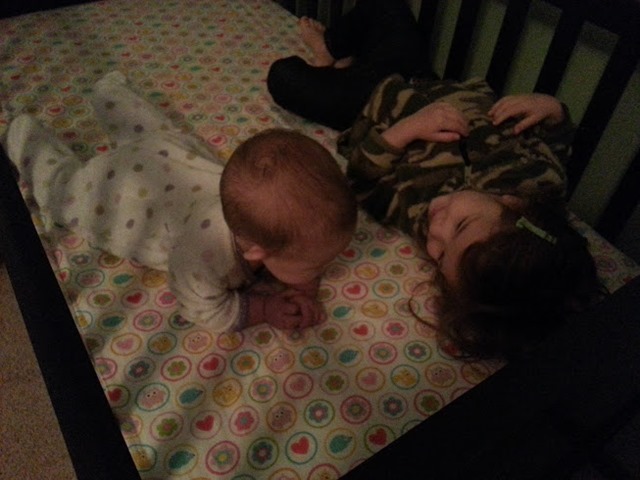 She's still a great little sleeper, too!
Happy 5 months little peanut!
Here are Dannie's previous monthly posts:
4 Months
3 Months
2 Months
1 Month